This is one of the most important questions customers tend to ask themselves when looking to buy a pair of Vibram Fivefingers; do I go laces or Velcro? In this article, we'll go through the main pros and cons of laces vs Velcro. Have a read through if you're still deciding which to go for.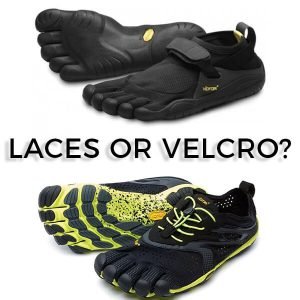 Let's start with:
Vibram Fivefingers: Laces or Velcro – Which is best?
Velcro fastening is simple, lightning fast and versatile. If you want footwear that you can slip on as fast as possible, Velcro is the way to go for pure speed. 
The designs with velcro are loved for their feeling of freedom, while the laces are enjoyed for their slightly more secure and sporty feel.
Why some users prefer laces?
A lot of Vibrams wearers like laces because they feel they offer the most secure fit possible. Vibram's have a handy speed-lacing system, that does help to make their lace variants faster to fasten up than most normal trainers. That said, you'll never be able to put on a pair of laced shoes as quickly as you can put on the same design with Velcro.
Laced versions also offer slightly less ventilation, and many users will agree that laces offer less of a completely natural barefoot feel.
Best Men's Vibram Fivefingers with Laces:
Best Men's Vibram Fivefingers with Velcro:
Best Women's Vibram Fivefingers with Laces:
Best Women's Vibram Fivefingers with Velcro:
Are Vibram Fivefingers Good for People with Wide / Narrow feet?
If you have narrow feet, you might find most Vibrams shoes will have an excessive amount of lace left after you've tied them. This is due to the fact that your feet require a tighter fit. The excess lace can become a bit of an annoyance in terms of aesthetics, catching on things, and the sound they make from constant movement. Velco erases these issues completely.  
If you have average shaped feet, it just comes down to personal preference as both styles are bound to fit you well in terms of both performance and practicality.
Vibram Fivefinges Looks and Appearance 
Where Velco looks ultra modern and more streamlined, there are still masses of people who prefer the more conventional look of normal trainers. This could be a key aspect if you want your Vibrams to be less conspicuous. Shoes with laces tend to look far more similar to conventional trainers, so have a better chance of attracting less attention. At the end of the day, it comes down to what you think looks better for the activities you plan to wear them.
Know the purpose of your Vibram Fivefingers
Thinking about wearing your Vibrams to the gym more than anywhere else? What does everyone else wear? Do you want to stand out or fit in? A lot of gym users will love Velcro versions for their smoother surface. This can prove ideal when it comes to using machines that require you to strap your feet in.
Ever caught your lace on something and tripped or pulled something down? This is another reason why many might prefer the Velcro finish in environments where there's loads of bars, points and machinery to catch laces on.
Running in open spaces doesn't necessarily require a smooth top surface, but it does require as tight a fit as possible.
Although a Velcro strap offers ample fastening security, a lot of people still prefer the traditional sense of adjustment control you get with laces.
Here's a list to help you find your perfect pair of Vibrams FiveFingers:
We hope this quick overview of the differences between lace Vibrams and Velcro versions has helped! Consider the factors above and you'll land the perfect pair for your needs.
Vibram Fivefingers Support
Feel free to get in touch if you have any further concerns or questions regarding the Vibrams range. We know everything there is to know about these amazing shoes, and we're happy to help you find the ones that'll serve you best!