Barefoot and minimalist running has received much attention during the past few years.
When you are looking forward to purchasing a pair, you would get a simple question in mind, how to choose minimalist running shoes?
Here is our in-detailed guide that you can follow in order to end up purchasing the best minimalist running shoe available these days.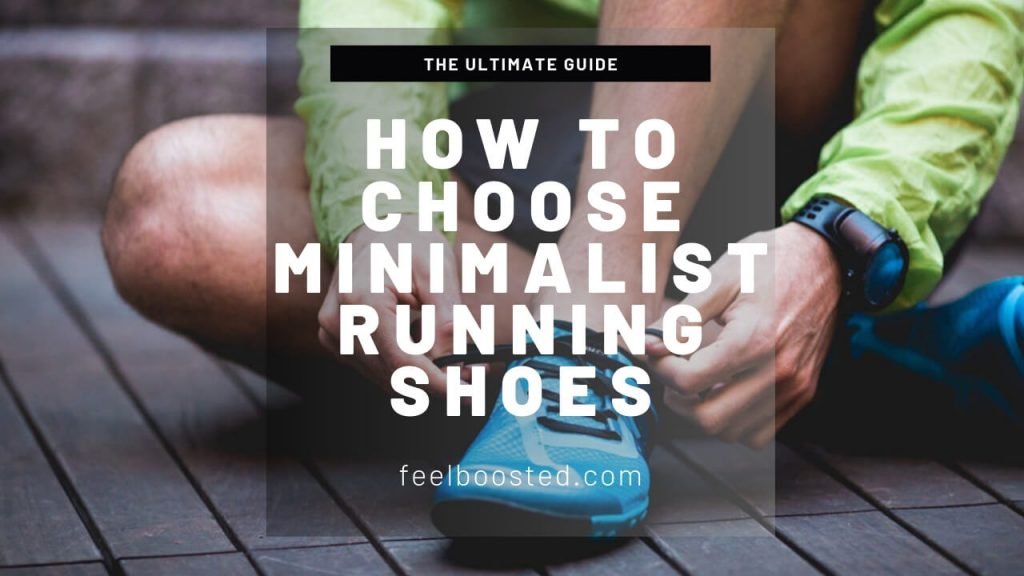 What to Look For in a Minimalist Running Shoe
Fit: Minimalist shoes should "fit like a glove", snug and without extra space around the toes and heel. If you plan to wear them with socks, make sure to try your new pair with socks on.
Buying tip: get an relatively cheap/introductory style from a famous brand. Usually the simpliest shoe will have all you need in terms of functionality: lightweight, low drop, thin sole, durability.
Most of the "High-end" ($120+) styles are massively overpriced and are not suitable or needed for a beginner.
If you are a beginner, it's reasonable to buy a pair with a bit of cushioning before transitioning to the slimmest soles out these.
Flat feet: get a pair with an increased arch support.
Keep in mind that the transition time to minimalist shoes may vary from person to person. Any type of discomfort or pain usually mean that your running style should be adjusted (read our expert tips below).
You might be interested: Benefits of Barefoot Running
Minimalist Shoes: Which Is The Best?
First of all, it is important for you to know exactly what type of a minimalist shoe that you are going to spend your money on.
The minimalist shoes can be divided into two main categories as barefoot shoes and minimalist shoes:
The barefoot shoes have the ability to deliver a unique experience to you and you would feel like running completely barefoot.
However, the soles of these shoes have been designed to protect you against potential injuries. There won't be any cushioned heels that can be found in traditional running shoes.
There will be an extremely thin layer, which is about 2-4mm in between your feet and the ground – a perfect way to simulate barefoot running.
The second type of is minimalist running shoes. They can be defined as a hybrid version of the traditional running shoes and barefoot shoes.
These shoes are designed for runners who want to get benefits of barefoot running without sacrificing comfort, protection and speed of conventional running shoes.
What Are the Benefits of Minimalist Shoes?
The benefits of this type of footwear have gained widespread popularity thanks to TWO key factors:
Minimalist and barefoot footwear will significantly improve your running style by minimizing harmful "heel-strike" running style. Instead, you will be forced to land on your forefoot and mid-foot.
In order to benefit users minimalist shoes usually have a lightweight construction as well. Most of the popular designs have a little arch support, slight or zero drop and pretty thin soles without much cushioning.
How to Run in Minimalist or Barefoot Shoes?
Before running in minimalist/barefoot running shoes, you need to pay special attention towards your running technique.
The key is to start gradually. Let your muscles adapt to your new pair of minimalist footwear.
Practice walking before you run
Try running short distances on a soft surface
Concentrate on striking with the midfoot
Don't overstride
Your running style should be relaxed and quiet
Gradually increase mileage – Start slowly and don't run too much too soon
Make sure to listen to your body
If you feel any discomfort or pain, you should to stop and give your body some time to recover
Vibram Minimalist Shoes
Vibram Fivefingers offer the best possible fit and ground feedback that you can think about. In fact, these shoes have the ability to deliver a perfect fit, which would feel like wearing a glove.
We spent hours of research to write this guide:
How to Choose / Buy the Right Vibram Fivefingers 
Vibram shoes are great for travelers who hate heavy shoes as well as athletes looking for increased functionality.
Vibram shoes have separate pockets for toes. The Fivefingers design was inspired by the idea to move naturally by allowing your toes to spread out.
Read more about famous Vibram Fivefingers:
5 Things You Need to Know about Vibram Fivefingers
Which Vibrams Are Best For The Gym, Everyday Use and Running?
Vibram Lawsuit – Are Vibram Five Fingers Bad for You?
Are Minimalist Shoes Good for Walking?
It is important to keep in mind that minimalist running shoes can be used for both running and walking. But In general, running shoes need to have more cushioning than walking shoes.  Walkers need less cushioning than runners but still need some. 
Studies show that many foot and knee problems are caused by "artificial" style of walking created by shoes with heavy cushioning.
Walking in minimalist shoes or completely barefoot can lead to a significantly natural gait. 
Barefoot and minimalist shoes strengthen the arches by activating the muscles of the foot to hold the arch in a correct position.
What Are the Best Minimalist Shoes? Top 5 Minimalist Running Shoes
However, minimalist and barefoot running shoes are expensive when compared to conventional trainers, they are an long-term investment worth trying out. With this idea in mind, we have put together a list of the top 5 minimalist running brands available online:
Xero Shoes Prio
New Balance Minimus
Merrell Men's Vapor Glove 3
How Do I Switch to Minimalist Running Shoes?
Take it slowly and listen to your body. Muscle soreness is a good indicator.
Contrary to widespread opinion, first try it on a hard surface (not on grass). Soft surfaces don't offer much feedback and it will be hard to tell if you are heel striking not landing on your mid/forefoot. Hard surface will most likely force you to correct your running stride and land softly avoiding heel-striking.
Start by running short distances and see how you feel.  This will create an adaptation effect without any hard to your body.
Be extremely careful if your BMI is 25 or higher. The impacts to the body increases if you are even slightly overweight. 
Make sure you are running with biomechanically correct running form on the first day of your switch to minimalist or barefoot running:
Shorten your stride
Don't heel strike – land midfoot
Relax your body: face, arms, legs
Maintain good posture with a slight forward lean
Cheap Minimalist Running Shoes
There are many decent minimalist shoe brands out there and of course you can get a relatively cheap and reliable pair minimalist of shoes that will allow you to run naturally and comfortably.
The least expensive and most minimalist footwear you'll find are Merrell Men's Vapor Glove 3 Trail Runner – only $50 for an amazing running shoe.
Minimalist Footwear Companies, Minimalist Shoe Brands List
Carets– office/dress shoes
Earth Runners– sandals, running, casual shoes
Lems– casual, sport shoes
Luna Sandals– sandals, sporty, running, casual, athletic, everyday
Sockwa– pull-ons, sporty, casual, athletic, running, everyday
Softstar Shoes – various shoes
Tadeevo– various shoes
Unshoes – various shoes
Vibram FiveFingers – running, casual, athletic, gym shoes
Vivobarefoot – sporty, athletic, casual, everyday shoes
Wildling – various shoes
XeroShoes– various shoes
Merrell Barefoot Shoes– various shoes
New Balance, Minimus – running, sporty shoes
Toms – flat, casual, stylish shoes