Vibram FiveFingers have revolutionized the shoe industry. These minimalistic shoes have become the talk of the town as they have shunned away from the traditional shoes and have become popular with those who are looking to opt for ways to live a healthier lifestyle.
There are numerous benefits associated with these shoes that include reduced risk of injuries, enhanced performers of runners, a natural feel etc.
The write-up below will serve as a complete guide about all you need to know about Vibram Fivefingers Shoes.
Click each link to be transported to different sections of this article:
(Or scroll down and start from the beginning)
What's my size? How to measure your foot?




1. What Are Fivefingers Shoes?
The idea behind the creation of the Fivefingers shoes was to manufacture shoes that could fit cozily and comfortably around the foot. By wearing the Fivefingers shoes, the individual fingers of the feet can move easily in their place while you can walk, run or jog without any hassles.
The bottom of the FiveFingers shoes is made of thin plated rubber in order to provide the wearer protection and enhanced grip. Moreover, the shoes boast of all the features that you expect from superior quality shoes; it provides you with a solid grip while keeping the comfort level high.
The shoe is designed in such a way that your feet will be completely protected if you step on a stone or any other pointy thing. At the same time, you will be able to feel the texture and shape of the ground and recognize the difference between surfaces i.e. a lush green grass, a hilly area or street with pebbles.
Studies have shown that barefoot running has various advantages associated with it. However, the fact that it keeps our feet unprotected; it can prove to be risky. But with Vibram Fivefingers, this issue is tackled efficiently. The innovative shoes keep your feet protected while giving you the impact of barefoot running.
2. Benefits of Fivefingers Shoes
There are plenty of benefits that you can derive by wearing Vibram Fivefingers. Let's have a look at a few of them:
As per studies, the padding on the traditional shoes lowers the ability of our feet to sense what's beneath it when it hits the ground. The dullness of this sense can lead to injury. However, with Vibram FiveFingers, your feet are in contact with the ground; the sense doesn't get affected and it reduces the risk of injury.
The human body is structured in such a way that it gets adjusted to the way it is used for a number of years, which implies that our feet are to be utilized without shoes. As per mechanical point of view, the actual purpose of our toes is to give us extra grip while we walk on any surface. In such a case where you are barefoot and hit a turf, you foot will adjust accordingly and you will be able to maintain your position.  Vibram FiveFingers can prove to be beneficial in such a case, as it will help you to know if you are hitting a turf due to its natural feel and adjust your position accordingly.
Same way when we walk over a stone, our foot, if we are barefoot, bends over and we are able to step on the stone without our foot being getting twisted.
On the other hand, when wearing a shoe, your foot is bound to topple on one side and there can be a chance of sprain.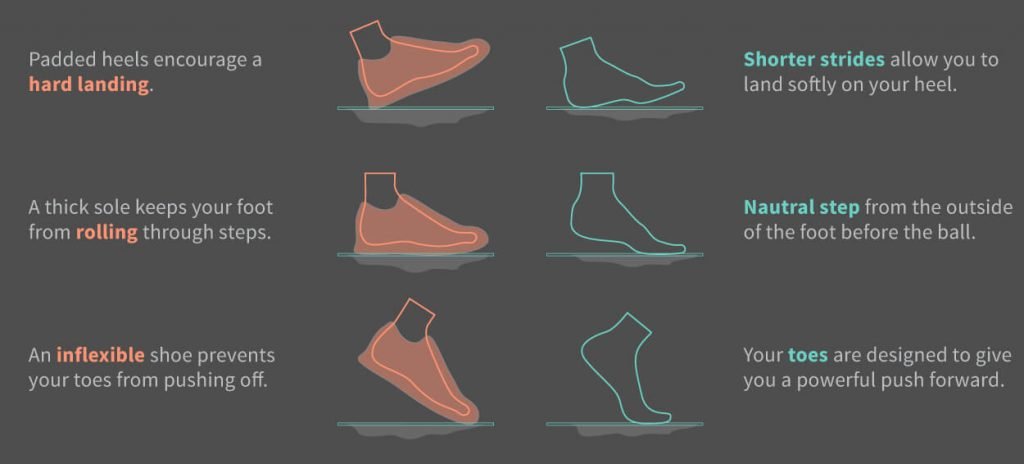 3. Top Fivefingers Shoes
Vibram is offering an exclusive range of FiveFingers shoes. Let's have a look at some of the best ones.
Vibram Fivefingers V-TRAIL
The V-TRAIL  from Vibram is the best choice for muddy conditions. It provides the wearer enhanced grip due to its mega grip sole and its innovative shape and lightweight body ensures great protection.
Vibram Fivefingers V-TRAIN: the perfect shoes for gym lovers. It has a slender sole which enables you to feel the surface while you train.
Vibram Fivefingers KSO EVO: KSO EVO is another popular product from Vibram. The shoes provide an amazing blend of comfort, adaptability and strong grip. With a lightweight sole (under 5mm), it allows the wearer to run through the rough conditions without twisting or straining their feet.
Vibram Fivefingers V-Run: This particular model from Vibram in its Fivefingers range is sleekly designed.  It has a delicate yet the most protective upper. Furthermore, it boasts of a thin sole that makes you feel your run giving you advantages which one can derive from running barefoot; without any risk of injury.
4. How to Choose?
It can be a daunting task to choose the best one from the plethora of options offered by Vibram in its FiveFingers category. Each type varies from other as per design, size, and functionality. If you are planning to buy one for you; the intention of use should be your top priority. Similarly, for indoor use, you can opt for KSO EVO and EL-X. Browse through our extensive range of products to select the one that fulfills your footwear needs.
5. What's my size? How to measure your foot?
For best results in finding your size, we recommend measuring both feet, heel to toe. Standing with your heels against a flat wall:
Related articles:
How to Wash Vibram Fivefingers and Furoshiki?